PART I: The Impact of the WESTERN HEMISPHERE in International Trade
By: Arthur M. Freyre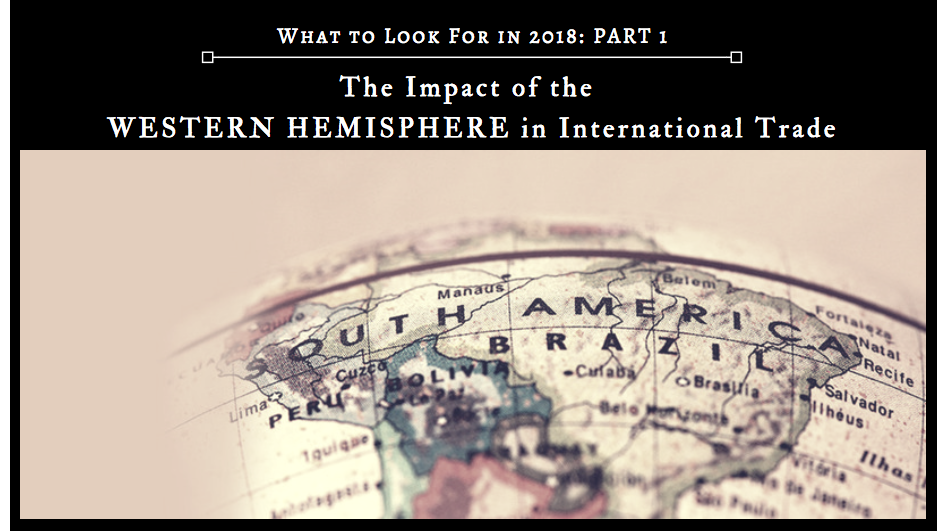 2018 brings an opportunity of promise in the area of international trade for the Western Hemisphere. In this two-part blog post, we will discuss the international trade opportunities that are developing in Latin America. Part I of this two-part series will focus on developments in South America, which are expected to provide a significant increase in prospects. Part II will explore what is going on with the North American Free Trade Agreement ("NAFTA").
There are several developments to keep an eye on in terms of future market potential, from the increase in unlikely trading partners to the continued development of individual countries seeking to present a more appealing market. The one impediment, however, that has the potential to diminish this optimistic outlook is the continued decline of Venezuela's economy. Nonetheless, the economic impact by the increased trade will be positive for U.S. businesses that are interested in expanding their goods and/or services to the region.
1. MORE TRADE FROM THE PACIFIC:
President Trump's decision to withdraw from the Trans-Pacific Partnership in January 2017, gave many nations the impression that the United States fully intends to reassess traditional economic alliances and agreements. Renegotiation of international trade agreements has been one of President Trump's priorities as he sets out to recast America's role in the global economy and seek out arrangements more agreeable to the American people.[i] As the U.S. is reexamining such agreements, however, it will continue to leave an opening in the global trade arena for others to take hold of influence and leadership. These changes have left many with the perceived idea that the United States has become a "patsy on economic trade," and has alarmed many of America's trading partners. This rhetoric, plus the proposal for increased tariffs, have also left many in the global community doubting the United States' presence as an international trading partner. This apparent shift in trade policy has formed a professed void for a strong leader in international trade, resulting in an increased interest between Latin America and the Pacific region in developing more substantial trade relations.
An example of this increased interest comes from two unlikely countries-Australia and New Zealand. Australia's Foreign Minister Julie Bishop visited Colombia, Argentina, Panama, and Cuba in 2017. The Australian media described her trip as "historic," noting the rarity of Australia's foreign ministers going to Latin America.[ii] During an annual Australia-Latin America Business Council dinner shortly after her visit, Ms. Bishop discussed the many opportunities for Australia in terms of trade, stressing that, as "Australia has been an enormous beneficiary of the global trading system," and should continue to expand on those advantages.[iii]
Additionally, New Zealand has been exploring the possibility of more trade with the aforementioned countries as part of a free trade agreement with the Pacific Alliance.[iv] The Pacific Alliance is a regional trading group comprised of Mexico, Colombia, Chile and Peru with the purpose of developing trade between alliance members and Asia. As New Zealand's Ministry of Affairs explained, the Pacific Alliance bloc alone represents the sixth largest economy in the world. New Zealand's goal is to reach a free trade agreement between them and the Pacific Alliance in order to expand New Zealand's goods into a developing market-Latin America. The fact that Australia and New Zealand are looking towards Latin America as available trading partners serves as an indication of how the Asia-Pacific rim, beyond China and Japan, are capitalizing on creating new economic alliances.
2. ARGENTINA'S ECOMONY WILL BE THE "IT" ECONOMY IN LATIN AMERICA FOR 2018:
Another South American country whose economy has continued to improve in the recent years is Argentina, a country worth keeping an eye on as their growth continues. Attracting foreign investment to invigorate the economy was a part of Argentine President Mauricio Macri's agenda when he was elected in 2015. Part of Macri's plan was the overhaul of the country's complex and burdensome tax code, which was completed in December 2017. The revised tax code and Macri's business-friendly reforms in 2016 have created a more amenable environment for foreign investors who have begun looking at Argentina for future business opportunities.
Cesar Litvin, CEO of Lisicki, Litvin & Asociados, a tax advisory service in Buenos Aires, explains that prior to reforming Argentina's tax code,"[the] foreign investment [in Argentina] … has [been] shied away …with one of the heaviest tax burdens in Latin America."[v] Argentina is expected to bring in billions from projects and foreign investment as a result of these changes in diplomacy. Unlikely trading partners have already started developing plans for various investment opportunities, such as Japan, who has not held a bilateral meeting with Argentina in decades. The two countries reunited at a meeting after Macri's changes took hold. Argentina's head of Investment and Trade Promotion Agency, Juan Procaccini, said in an interview last year that "strong Japanese companies [were] looking to invest in Argentina for probably the first time ever."[vi] One can expect that Argentina intend to build upon these advances and become an active participant in international trade issues as the 21st largest economy in the world.
3. MORE CHAOS IN VENEZUELA:
The commercial optimism of the Pacific Alliance countries is in stark contrast to Venezuela, whose economy is expected to diminish further compared to its neighbor, Colombia, who has also become an attractive country for foreign investment.[vii] The political instability within Venezuela will most likely continue to go unresolved based on the Maduro Government's unwillingness to negotiate with those in opposition to his attempts at circumventing the Venezuelan Constitution following his loss of the majority in the 2016 National Assembly election.[viii] Additionally, the Maduro government has been accused of election fraud on several occasions, most recently in July 2017 and October 2017.[ix]
The Trump Administration, in August 2017, issued Executive Order 13808, providing sanctions against Petroleros de Venezuela, SA (PdVSA), Venezuela's government-controlled petroleum company, in response to the political crisis.[x] The impact of this instability has thus far increased migration from Venezuela to other countries in Latin America. It can be expected that the increase in migration from Venezuela to neighboring countries will continue should the volatility persist. How these surrounding countries handle increases in population will depend on several factors, one of which is the strength of their economy. Those countries with stable and healthy economic platforms are more readily able to absorb migration in high volumes. On the other hand, anemic or unstable economies will continue to digress when the economic maladies are magnified.
CONCLUSION:
2018 has the potential to be a great year for Latin America in terms of trade. Australia and New Zealand's increased desire to promote their products in South America indicates that countries in the Asia-Pacific region are looking at opportunities South America in a new light. Argentina's continued economic reforms by President Macri also signal not only to South America, but the rest of the world, that Argentina's intends to become a proactive participant in the global economy. A stronger Latin America will also have a bearing on the United States, who could benefit as well, whether it is from increased tourism to more opportunities to expand goods and services provided in Latin America.
A significant obstacle to this outlook is the continued digression of the situation in Venezuela. The pending exodus of Venezuelans into the rest of Latin America will serve as a stress test to neighboring economies, especially those who directly share a border with Venezuela.
For those that are interested in expanding into Latin America, this is a good time to bolster plans for providing goods and/or services in new markets. Part of that planning should include becoming familiar with not only the political and economic landscape, but also the legal and tax implications associated with foreign ventures.
The Law and Public Policy office of PobleteTamargo is dedicated to providing political intelligence not only to individuals, but companies that are looking to invest in the Latin America region and other parts of the globe. Our attorneys have experience in developing policy on the governmental level. To learn more about our firm, office locations and specialties visit www.pobletetamargo.com
---