Dr. Andy S. Gomez, assistant provost for planning, institutional research, and assessment and senior fellow at the Institute for Cuban and Cuban-American studies, received the President's Medal at the May 10, 2013 commencement ceremony. Since 1994, he has served in a myriad of roles at the University, including dean of the former School of International Studies.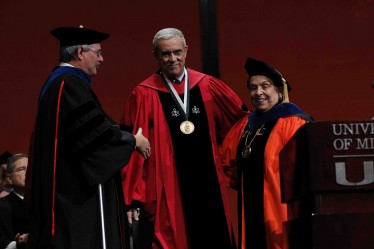 UM Provost, Dr. Tom LeBlanc, Dr. Andy Gomez (center),
and UM President, Donna Shalala.
He has also taught several courses on Cuba, including Cuba after Castro and the Cuban Revolution. His research into U.S.-Cuba relations and reconstruction in a post-Castro Cuba has garnered various advisory and guest speaker engagements with such organizations as the U.S. Southern Command Task Force on Cuba, the U.S. Coast Guard Academy, the U.S. Air Force Special Operations University, and ABC News.
In 2008 Gomez was appointed a nonresident senior fellow in the Foreign Policy Program at the prestigious Brookings Institution and served as a delegate to the Organization of American States in San Pedro Sula, Honduras.
He successfully led the University's pivotal Southern Association of Colleges and Schools reaccreditation process. He did such a good job that he was selected as a SACS trustee, representing not only the University of Miami, but private research universities as a group.