On Monday, May 6, 2013, The Business Bank (TBB) hosted its annual tournament, The Lori Davis Golf Classic, at Westfields Golf Club in Clifton, Virginia in honor of Lori Davis, a dear friend and colleague of TBB who passed away from breast cancer in 2009.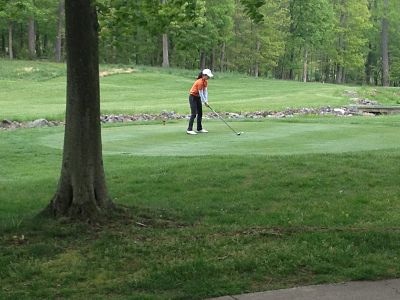 Priscilla Ro tees off on the 16th hole
There were 132 players and each team was comprised of a foursome. The tournament started in the afternoon with a shotgun start at 1:00pm, and the format of the day was called a "shamble" - a mix between scramble and best-ball. In other words, each player on a team would tee off, and the team would then select the best tee shot from which to hit their 2nd shots within one club-length of the selected shot. This was the best-ball portion of the format.
Once each player hit their 2nd shots, they would hit their subsequent shots from wherever they landed until each member completed the hole. Ultimately, the team would record the score of whichever member scored the lowest on a hole as the team score for that particular hole. This consisted of the scramble portion of the format.
Overall, the course itself was beautifully laid out yet challenging, which made it an interesting day for all of the players. It rained for a short while, but despite what the weather forecast had predicted, the rain held out for the remainder of the day. Upon the conclusion of the tournament, TBB hosted a dinner for all of the players and not only awarded trophies to the teams with the lowest gross and net scores respectively, but also awarded numerous raffle prizes.
It was a wonderful experience, and I enjoyed playing with my team. Most importantly it was a worthwhile cause. Our team captain invited me to play again next year, which I would love to do and which I am already looking forward to.