Following the Subcommittee Hearing on Agricultural Trade With Cuba held on September 9, attention to recent support for pro-trade measures with Cuba have increased. In an article from the Sun Herald titled "Arkansas Rice Farmer Hopes For Sales to Cuba", the agricultural sector and those representing it discuss the trade embargo in terms of Agricultural incentives.
Currently, American farmers are looking to Cuba for a possible thriving market with 11 million people without enough working farms. Before the trade embargo took effect in 1960, Cuba imported more than 250,000 metric tons of US rice, in addition to many other food staples grown on American farms, which came to an end following the embargo. However, U.S. laws were amended in the 1990s and 2000 to allow for export of food and medicine.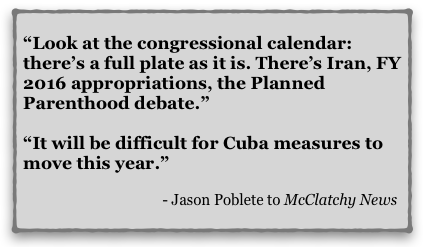 Congressional representatives are seeking to catalyze agricultural sales to Cuba as they look to ease rules against the use of credit, which has won the support of many lawmakers in farm based states.
Regardless of support from agriculturally based Congressmen, Cuba might not jump on board. Countries currently supplying Cuba with rice, like Vietnam, give Cuba more than 2 years to pay for a years worth of rice, something American companies are not likely to do.
With three bills in the Senate aiming to allow agricultural products to be sold to Cuba, this Congressional session will require much more support for such legislation as it begins with an already jam packed agenda.
With so many topics at the top of the priority list for Congress, it will be interesting to see if room will be made for other issues, including those regarding agricultural trade with Cuba.
The entire article in the Sun Herald can be read here.