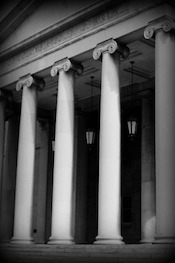 Curtis M. Anderson serves as Special Counsel with the law and public policy firm of PobleteTamargo.
Prior to forming his own firm, Curtis Anderson was Vice President and General Counsel for MELE Associates, Inc., a government and technology development contractor. Mr. Anderson provided expertise as an internal consultant and Subject Matter Expert (SME) including support of US Department of Energy's National Nuclear Security Administration's (NNSA) Global Threat Reduction Initiative for programs in domestic conversion, removal and protection. He led the Telecommunications and Broadband teams and served on the Renewable Energy and Energy Efficiency teams.
As Deputy Administrator and Acting Administrator for the Rural Utilities Service (RUS), US Department of Agriculture, Anderson managed a $20M annual budget, 300+ employees and a $43B loan portfolio with more than $10B in new lending and grants annually to finance electric, telecommunications and water & waste infrastructure in rural America. He led a new, innovative reporting format with a weekly dashboard with key metrics that drove the annual loan default rate to less than half of one percent and collaborated with senior staff at sister agencies to track 87 programs for regulation citation, eligible entities and other key data. The upgrades dramatically improved data retrieval to allow better program control for billions of dollars in annual grant and lending activity.
As CFO & General Counsel for the National Association of State Departments of Agriculture, Anderson was responsible for accounting and finance, human resources and legal, overseeing 4,000 employees in 49 states. In addition to new financial procedures and a new Chart of Accounts, he led the team's persuasive membership presentation to achieve 100% member retention in the face of severe state-level budget cuts.
As Secretary to the Board of the Farm Credit Administration, he served as senior administrative officer of the regulator of a financial system with $60B in assets. His systems design reduced the number of Board-approved orders by 90% and cut Board-approved policy statements by 56%, and was recognized with three Chairman's Awards.
Mr. Anderson has served as Attorney-Advisor in the Office Solicitor, Division of General Law at the US Department of the Interior; consulted at the Public Service Center of Phi Alpha Delta Law Fraternity, International; has been appointed in two US Presidential Administrations; and serves on several boards.
Bar & Court Admissions
California
Oklahoma
Supreme Court of the United States
U.S. Courts of Appeal, Ninth and Tenth Circuits
Education
J.D. Gould School of Law, University of Southern California
Bachelor of Science in Economics, Wharton School of Business, University of Pennsylvania
Bachelor of Arts, University of Pennsylvania's Faculty of Arts & Sciences