Monday, 09 January 2017 15:48
By: Arthur M. Freyre

Microsoft and the Department of Justice have had a few interesting court cases over the past twenty years, with the most famous being the anti-trust case involving the Internet provider, Netscape. This latest battle between the DOJ and Microsoft might become the most notorious.
The case is known as the Microsoft Ireland case. The Microsoft Ireland case centers on the DOJ's warrant to review emails in a customer's account maintained by Microsoft pursuant to the Stored Communications Act (the "Act").[i] The Stored Communications Act which was passed in 1986, made it illegal for one to access an electronic storage facility without the proper authorization.
Read more... [Microsoft vs. DOJ - Round 2]
Monday, 31 October 2016 15:39
By: Arthur M. Freyre
The state of Florida dodged a major hurricane earlier this month. With the impending danger of potentially disastrous weather, the State of Florida initiated its emergency response plan. While the state was preparing for Matthew, Floridians were advised to have their hurricane plans ready, including getting shutters ready in preparation for any potential landfall by Hurricane Matthew. If it had made landfall in South Florida, the damage would have been catastrophic. Thankfully, it did not.
Being prepared for a hurricane or other pending weather phenomena is similar to being prepared for a cybersecurity breach. The damage caused by either one is similar in that the damage would be immense and it would take time to rebuild-whether it is a physical building or your company's reputation.
Read more... [Cybersecurity Awareness Month]
| | | |
| --- | --- | --- |
| | | |
Tuesday, 23 August 2016 14:05
By: Arthur M. Freyre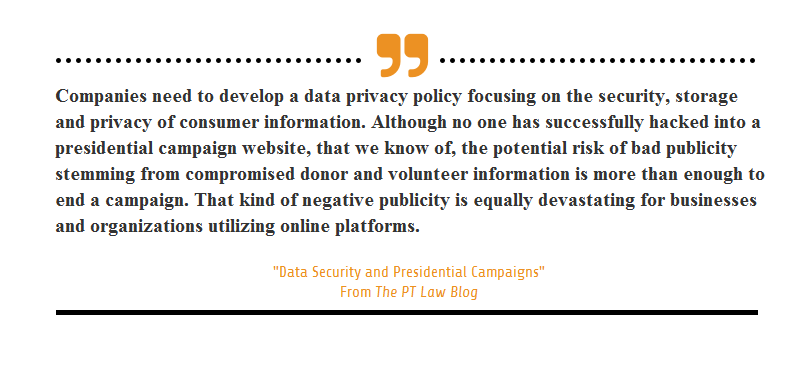 The 2016 Presidential Election may have inadvertently made data protection a campaign issue. Last month's release of DNC emails by WikiLeaks not only caused embarrassment, but also the resignation of the DNC chair. The entire ordeal could have been prevented or controlled had the DNC paid attention to the warnings issued long before the breach. Last November, the Online Trust Alliance released a report on assessing the safety of presidential campaigns. The report, which focused on site security, consumer protection, and privacy, gave many campaigns failing grades for their lack of implementing a data privacy policy. Many additional warnings from computer security consultants hired by the DNC were issued last fall after a two-month review was conducted. The results found several flaws from out-of-date firewalls to a lack of advanced malware detection technology on computers.
Read more... [Data Security and Presidential Campaigns (PART II)]
| | | |
| --- | --- | --- |
| | | |
Privacy, Data Protection and Security
Wednesday, 27 July 2016 16:06
By: Arthur M. Freyre
The House of Representatives Homeland Security Committee issued a report on the state of the encryption debate this past month, prior to the House leaving for recess. The report called, "Going Dark, Going Forward" provides the reader with an overview concerning the encryption debate that has been going on not only here in the U.S., but in other countries.
Read more... [Going Dark, Going Forward - An Encryption Update]
| | | |
| --- | --- | --- |
| | | |
Privacy, Data Protection and Security
Wednesday, 22 June 2016 13:39

By: Cara Di Silvio
The Federal Aviation Administration issued new rules for non-hobbyist small-unmanned aircraft ("UAS") operators on June 21. The regulations cover a variety of issues regarding commercial drone use, and ultimately make it easier for businesses to utilize the rapidly expanding technology. Up until now, industries have relied on interpretations of policy statements from the FAA, and required specific exemption for operation.
Read more... [FAA Issues Final Rule on Unmanned Aircraft Systems]
<<

Start

<

Prev

1

2 3 4 Next > End >>


Page 1 of 4